9:30PM
(Doors:

8:30PM

)
$26.00 - $41.00
Ages 21 and Up
This show is at Belly Up
143 S. Cedros Ave, Solana Beach, CA
Genre: pop
Ticket Price: $23.50 advanced / $26 day of show / $41 reserved loft seating (available over the phone or in person at our box office) (seating chart / virtual venue tour)
Not on the e-mail list for Venue Presales? Sign Up to be a Belly Up VIP and you will never miss a chance to grab tickets before they go on sale to the general public again!
There are No Refunds or Exchanges on tickets once purchased.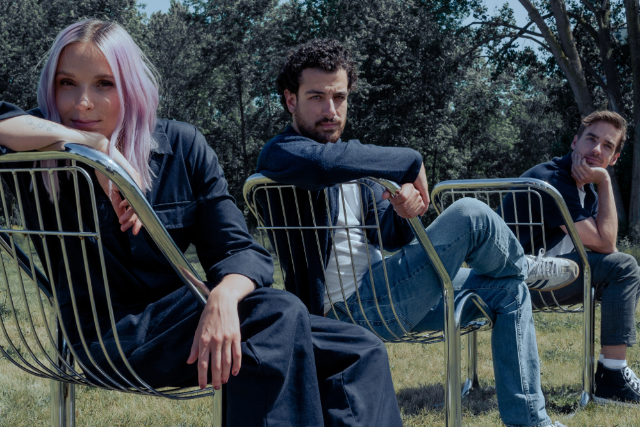 Wild Rivers
Genre: Folk
"The more I see, the less I know about it." It's one of the first, most prominent lyrics on Sidelines, the much-anticipated full-length album from indie trio Wild Rivers. The phrasing is brief but says everything about adjusting to young adulthood — and beyond. The world places infinite pressure on us to have a plan for the future, but, as Wild Rivers eloquently articulate throughout Sidelines, it's healthier to acknowledge — and even embrace — the not knowing.
Comprising Khalid Yassein [guitar, vocals, keys], Devan Glover [vocals], and Andrew Oliver [lead guitar, synths], Toronto's Wild Rivers have a gift for penning introspective lyrics and genre-fluid melodies that transmit wisdom beyond their years. The 10-track Sidelines, co-produced by Peter Katis (The National, Interpol, Sharon van Etten) and Wild Rivers and recorded in Connecticut, Los Angeles and Khalid and Devan's college town of Kingston, Ontario, touches on coming-of-age themes, such as learning how to be more present and coming to terms with life's unpredictability.
In many ways, the group's own story is one about embracing the unknown. Born in Canada, Khalid, who is half-Egyptian, and Devan, who spent her childhood in London, England before returning to Canada, first connected at Queen's University in Kingston in 2013. Starting out as an acoustic singer-songwriter project, Khalid and Devan expanded their aesthetic to a more full-bodied sound, adding multi-instrumentalist Andrew, who Khalid calls their "Swiss army knife."
Together, right before their first show, the band decided on the name Wild Rivers "in a Subway restaurant," laughs Andrew. "Our friends were going to be there and there was a lot of pressure on making a big reveal, just cause we had really left it to the last minute," adds Devan. "There wasn't too much thought put into it. We just were like, 'okay, this sounds cool. I'm going to get a foot-long'".
A portrait of their early post-college years, Sidelines is where Wild Rivers poured their collective impressions about merging into their mid-20s — a strange, liminal age where it's easy to romanticize childhood. Sidelines, according to Andrew, looks back longingly upon "the time when you are truly present and you're not having this forward-thinking vision where you're worried about the next thing."
"A lot of [Sidelines] is about perspective and longing to be somewhere that you're not, or trying to figure out how to get to a place that you want to be, whether it's physically, emotionally," says Devan. "I think we're all kind of struggling with our sense of identity, in the stage of life that we're in."
Sonically, Wild Rivers pull from a spectrum of sounds, imbuing pop, rock, indie, and folk into each song's blueprint. "We all listen to a wide range of music, from hip-hop to indie rock to pop," Devan says. "We like to pull our favorite parts of every genre and patch them together and see what works and see what feels good."
The contemplative, keys-driven "Long Time" digs into the divisions between head and heart, telling a story about hearing from an ex for the first time in months. "It's from the perspective of a couple of years post-breakup," says Khalid, whose gentle voice forms a perfect harmony with Devan's on the track. "You're growing up / while I'm in a rut," they sing together, neatly encapsulating the insecurities most of us feel when faced with when an ex-lover comes back into the picture.
Elsewhere, in a co-write with Nashville singer-songwriter Caitlyn Smith, "Neon Stars" is a nostalgic, wistful acoustic ballad about young love. "Singing with Caitlyn was very surreal and fun," says Khalid. ""As a writer, she really excels at visual storytelling. There's just a lot of lines that paint a very specific picture of the nostalgia that we're talking about."
Meanwhile, the mid-tempo "Bedrock," which settles in with easy drumbeats and smooth vocal harmonies, considers the way hard times have a way of always showing up. "The song came out of a period of depression," says Khalid. "Even after you check all of the boxes, practice mindfulness, drink eight glasses of water a day, it can still rear its ugly head. This is the moment where you throw your hands up and give in to it. This song is like the catharsis that comes with that feeling."
The mood brightens on "Stubborn Heart," which showcases a jangling, sing-along melody and breezy rhythm. Written in the artistic community of Los Angeles' Echo Park, where the trio rented a house for a few months to write, ""Stubborn Heart is a moment of levity in the album," Khalid says. "It's about trying to coax someone out of a fight, making jokes and making light of things until you both get over it."
Sidelines also captures Wild Rivers' collective sense of humor, on the upbeat, crisply strummed "Weatherman." "I think we were joking about how being a weatherman is the chillest job ever," Devan reveals. "Because you could be wrong 90% of the time and you don't lose your job."
"Your perception of a sure thing is rarely a sure thing," adds Khalid. "It's more fruitful to just live life in the moment and take everything as it goes. It's okay to be wrong."
As they embark on the next chapter of their journey, Wild Rivers, who first caught audiences' attention with their 2016 self-titled debut, followed by two EPs (2018's Eighty-Eight and 2020's Songs To Break Up To), are especially eager to take Sidelines on the road. The live setting is where they originally cultivated a dedicated following and opening for celebrated acts like The Paper Kites, Donovan Woods and Jake Bugg. Building an authentic relationship with fans, while channeling classic singer-songwriters like James Taylor and Fleetwood Mac, has been vital to Wild Rivers' connection with audiences.
"We've been fan-facing rather than industry facing," Khalid explains. "I think most of the success we've had up to this point is because of that. Music fans find us."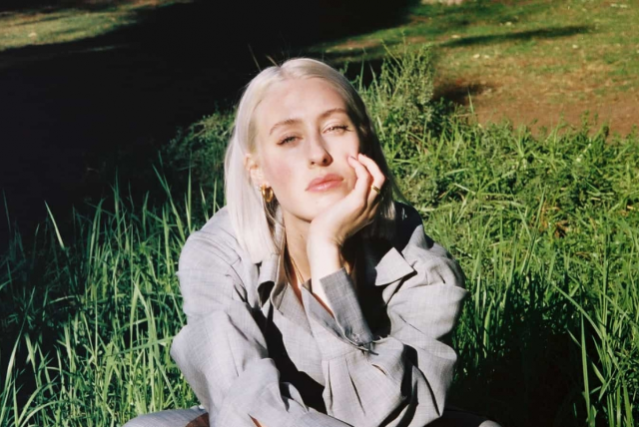 Violet Skies
Genre: Dance/Electronic
If I Saw You Again, Violet Skies' seductive debut album, arrives as the stars align for the Chepstowborn-and-raised singer, songwriter and producer. With more than 20 million streams of her past two EPs, riding high on hits co-written for Diana Ross, LEON, Mabel and Tiesto and on the back of a breakout duet with Billy Lockett from this year's Love Island, the musician is on the brink of becoming a household name.

Completed while locked down in L.A. last year, If I Saw You Again is proof that, in pop as in life, timing is everything. Ten sparse, searingly-honest, sensationally-sung tales of love and loss involve paths crossing and meetings missed, mix actual events and imaginary scenarios and capture Violet Skies on the rise after a rollercoaster ride during which she came close to quitting music.

"I'm a real believer in fate," says Violet, currently splitting her time between L.A. and the UK. "I couldn't have made this album at any other time. There's a definite sense of destiny to it."

The death of her beloved Nan in 2018, the fallout from a bad break-up and a new relationship are at the heart of bold, bewitching, melody-led songs set to piano and guitar and purposely uncluttered by production. The oldest tracks date back to 2017, the most recent were written last summer.

"I love production, but I wanted to give these songs space to breathe," says Violet, whose mesmerising vocals switch between high and haunting and low and hypnotic. "Sometimes less means more. Up close, you hear every word.

"In lockdown, I learnt to play guitar. I sat with the demos of songs I've collected over the past few years and thought a lot about how I wanted them to sound -- warm and comforting, completely real. There's electronic stuff, synths and weird moments as well, but this is the most bare my music has ever been."

Violet Skies' first taste of fame came unexpectedly in 2013 when her DIY debut single, "How The Mighty," exploded on Soundcloud. Jamie Cullum and Huw Stephens helped it take off at radio and within six months, a hyped Violet was on stage at Glastonbury and playing everywhere from SXSW and Eurosonic to gigs in Germany and China. But what should have been fun soon turned sour.

A run of bad luck, bad managers and a break-up sent her home to Wales in 2016 unsure of her future. For her writing, however, it proved a turning point.

"Something clicked in my brain," she says. "Suddenly I didn't care what anyone thought and I started to write honest songs. I lost the shame about what had happened to me and it changed my life almost overnight."

Invited to writing camps from the US to Sweden, Violet Skies became an in-demand songwriter. At one, she met the producer Charlie McClean (1D, Little Mix, Leona Lewis) and, with aid of a grant from PRS, the pair launched sheWrites, pioneering, female-only writing camps which have since taken off around the world and led to the pair's co-writing Diana Ross's current single "I Still Believe."

Meanwhile, her own songs found her a new manager and a deal with Kobalt. In 2019, she released the acclaimed EP I'll Buy A House, a kiss-off to the ex who had cheated on her, and by autumn had her first chart hit with Mabel & Tiesto's "God Is A Dancer."

The pandemic proved productive. In L.A. to write for other artists, Violet Skies found herself stuck and decided the time was right to record her debut album. Last spring's EP Lonely, featuring a song co-written with longtime friend Finneas and a title track later re-recorded as a duet with the Swedish star Molly Hammar, hinted at her pared-back new direction. But it was learning to play guitar which proved key to If I Saw You Again's stark, yet intimate sound.

"There is a lot of guitar on the album, learning to play in lockdown was a revelation. It opened the door to simplifying the songs. I went back to the tracks I'd held back, which I knew were special but hadn't released, and reworked them."

"My life has changed since I wrote some of them. Plus, my voice has improved. Singing them now, they feel different, as though I'm coming from a different perspective, yet none has lost any meaning. If anything, they mean more to me now."

If I Saw You Again takes its title from remembering her grandmother, at whose home in Pontypridd she hid when her life was falling apart, "It also refers to my relationships, past and present."

"If I saw her again, what would we discuss?" asks Violet. "I ask a lot of questions on the album. I muse a lot about loss and death. Essentially, it's a collection of songs about people I've lost and found, about meetings or lack of meetings. Who decides when people's paths cross?"

Meeting her now boyfriend, producer Micah Jasper (who contributes to the album) in the US in 2017, set the ball rolling on several songs, among them the spectral spine chiller Jupiter, the breezy beauty "When Are We Gonna Do This" and the misleadingly titled, sunny singalong "What If One Of Us Died."

"I knew Micah a week before I had to head home and for the next two years we were in a long distance relationship," she says. "'Jupiter' is about Venus and Jupiter meeting once every seven years. 'When Are We Gonna Do This' is me asking when the relationship will become real, which we both knew was inevitable. 'What If One Of Us Died' proves my perhaps a little morbid fascination with death."

The album opens with the sensual, part acapella "Settle," written when Notre Dame was on fire and California was under snow.

"I was in LA, watching the news and it felt like the world was ending," says Violet. "I sat on 'Settle' because I knew it would open the album. It's a warning not to settle for the state of how things are -- whether in your own life or the world at large -- just because it's too much effort to change. It's about urgency and time."

The acoustic guitar-led "We Don't Get Along" is about falling out of love, while "The Internet" finds her happy for her ex as she looks him up online.

"When I first wrote about him I wanted revenge," she says. "But now I want to thank him, I hope he's ok. If he hadn't cheated on me, I wouldn't be where I am now."

Three tracks were written remotely in lockdowns last year. "Never Be Cool" captures her inner nerd, the swotty, choir girl at school who will always be with her. The ballad "Love You Better" is about refusing to change to stop a partner from straying. "Hey God, It's Me," written in her PJs on the sofa with her newly purchased acoustic guitar, questions the meaning of death and features a sample of her, her Mam and her late Nan laughing, which she found by chance in her voice notes.

The album closes with "Over The Valley," a gorgeous, gripping tale told from her grandmother's perspective which starts with the sound of thunder.

"Whenever there were storms, my Nan would open her front door and sit on the step and we'd watch the weather together," says Violet. "I cried my eyes out when I wrote that song, the nutcase Brit in L.A. with a couple of co-writers I'd never met before. Even now when there's a storm, I hear my nan speaking to me."

As both a writer and an artist Violet Skies is soaring. A finalist at Max Martin's Denniz Pop Awards last year and with sheWrites now a publishing company, with camps taking place around the globe, she has to pinch herself that the teen who started out playing pubs in Chepstow and came close to giving up, finally has the debut album she dreamed of.
Genre: pop
Ticket Price: $23.50 advanced / $26 day of show / $41 reserved loft seating (available over the phone or in person at our box office) (seating chart / virtual venue tour)
Not on the e-mail list for Venue Presales? Sign Up to be a Belly Up VIP and you will never miss a chance to grab tickets before they go on sale to the general public again!
There are No Refunds or Exchanges on tickets once purchased.