Ages 21 and Up
This show is at Humphreys Concerts By the Bay
2241 Shelter Island Drive, San Diego, CA
BELLY UP PRESENTS
AT HUMPHREYS CONCERTS BY THE BAY
2241 Shelter Island Dr, San Diego, CA 92106
THIS SHOW IS NOT AT BELLY UP.
Ticket Price: $47.50 general admission

Not on the e-mail list for Presales? Sign Up to be a Belly Up VIP and you will never miss a chance to grab tickets before they go on sale to the general public again!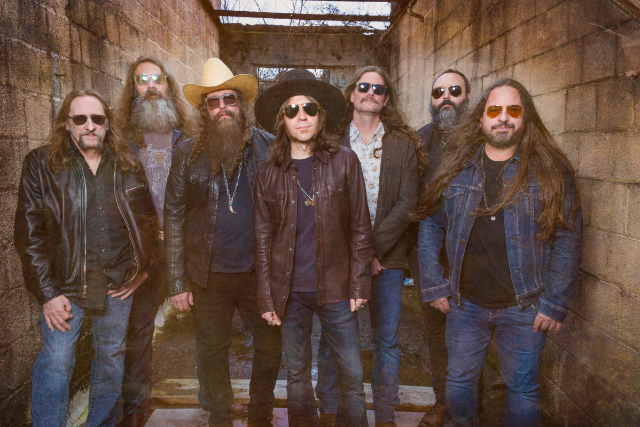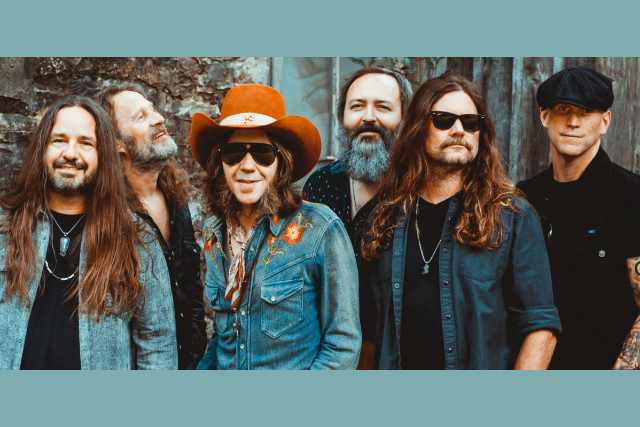 Blackberry Smoke
Throughout their career, Blackberry Smoke -- vocalist/lead guitarist Charlie Starr, guitarist/vocalist Paul Jackson, bassist/vocalist Richard Turner, drummer Brit Turner, and keyboardist Brandon Still -- has embodied Georgia's rich musical legacy, honoring the people, places and sounds of their home state. As the band celebrates their 20th anniversary this year, their reverence for Georgia has only deepened.

On their latest album, You Hear Georgia, the follow-up to 2018's critically acclaimed Find a Light, Blackberry Smoke is further celebrating these roots with 10 new songs that feel like Georgia, accented by the addition of Grammy-winning producer and fellow Georgia-native, Dave Cobb (Jason Isbell, Brandi Carlile). "Dave and I had spoken for the last few years about making a record," Starr says. "Finally, it worked out, our schedule and his schedule, and we said, yes -- let's make a record."

Blackberry Smoke worked quickly, spending just 10 days at Nashville's famed RCA Studio A, Cobb's home base since 2016. The band recorded live on the floor, giving You Hear Georgia a crisp, outgoing feel. Like other Blackberry Smoke efforts, this album leans into well-crafted Southern rock driven by jagged guitar riffs and rich instrumentation, as the band layers on rollicking piano ("Live It Down"), funky grooves ("Hey Delilah"), and introspective acoustic sounds (the stripped-down, folk-leaning "Old Enough to Know").

"He's a very laid-back guy with excellent ideas, but he's very enthusiastic about making music, and he's right in there with you having a ball," Starr says. "He's a calming presence and so knowledgeable musically, and he knows how to get what he wants in the studio. I don't know if we could have made a record in 10 days with everyone, and that definitely speaks to Dave's ability."

Working with Cobb was the right move, as his approach brought warmth and looseness to the proceedings, while his easygoing demeanor and songwriting background allowed him to provide perceptive insights into this particular batch of Blackberry Smoke songs. In fact, the producer encouraged Blackberry Smoke to pursue the title track after hearing Starr noodling on the idea in the studio.

"He heard me play it, just the riff, and I sang a little bit of a verse and he said, 'What's that? What's that?'" Starr says. "I said, 'It's just something that's not finished yet.' And he said, 'Well, finish it, because we want to record that too.' So I went back to the hotel room and finished it, and there we go."

"You Hear Georgia" features a narrator who's underestimated because of outward appearances and misguided stereotypes, which is a theme of Starr's lyrics this time around, particularly as it relates to the band's Southern roots. "Lyrically, the song is about the South being misunderstood. It's obviously a rough and tumble world, and there's a lot of bad people. But there's a lot of good people too. It started with the idea of how people might have a preconceived opinion of you because of a thick Southern accent, then expanded into the reality of how some people just seem to have such a hard time getting along, thanks to political or religious views, or simply what part of the country you come from."

In that spirit, Starr found collaborating valuable as You Hear Georgia's songs came together. Jamey Johnson ended up lending gruff and tender vocals to the pedal steel-augmented "Lonesome For a Livin'" after he and Starr started reminiscing about a previous collaboration, their 2009 cover of the Willie Nelson-penned "Yesterday's Wine."

"We were talking after a show, and he said, 'Hey, let's do something else,'" Starr says. "I said, 'I have this song, it's really a honky-tonk song. And he said, 'Send it to me,' and I did, and he dug it." And so he came down to the studio and just killed it. He has a voice like no other."

Starr also co-wrote most of the album's songs with friends, including current Lynyrd Skynyrd member Rickey Medlocke ("Old Scarecrow") and Gov't Mule's Warren Haynes ("All Rise Again"), as well as two frequent collaborators, Four Horsemen guitarist Dave Lizmi, and ex-Buckcherry member Keith Nelson.

"That's just an enjoyable thing to do sometimes," Starr says of co-writing with pals. "It's like, 'Okay, let's just knock heads together and see what we come up with.' And sometimes it's magical."

The songs Starr wrote with Haynes, Lizmi and Nelson came together in the early stages of 2020's pandemic- driven lockdown. But save for "All Rise Again" -- a surging highlight with a trademark Haynes blues-jam solo and an optimistic vibe -- these lyrics aren't explicitly about the disorienting experience of the lockdown. "There were so many musicians stuck in their living room," Starr explains. "Those songs were born out of that necessity to create and make new music. You've gotta be moving forward."

Unsurprisingly, many of You Hear Georgia's songs describe characters that are restless and prone to seeking out a change of scenery, in hopes of finding a place where they belong. Against cinematic backdrops with vivid details, it's easy to empathize with these protagonists as they share pearls of wisdom ("Don't ever trust a grown man with a nickname") and exhibit deep self-awareness ("Anywhere's better than staying here, with the ghosts running thru his mind") along the way.

The hard-touring Blackberry Smoke knows a little something about hitting the road in order to find a place to belong. Over the years, the band's toured with ZZ Top, Zac Brown Band, and Eric Church, while the group's last four full-lengths reached the top 10 of the Billboard country charts, with two of these albums (2015's Holding All The Roses and 2016's Like An Arrow) landing at No. 1.

You Hear Georgia reinforces that the band members have come so far together because they also can rely on one another for support and creative direction, no matter what the circumstances.

"Having played music together for so long, it does become a sort of a telepathic thing, where we all are nodding our head at the same time, like, 'A-ha, I know what this feels like,' or what it should feel and sound like," Starr says.

"That's what makes it so enjoyable to be in a band: to play with the same dudes decade after decade," he adds. "Because when you land on something that works to you, you don't want to stop. You want to keep doing it."

BELLY UP PRESENTS
AT HUMPHREYS CONCERTS BY THE BAY
2241 Shelter Island Dr, San Diego, CA 92106
THIS SHOW IS NOT AT BELLY UP.
Ticket Price: $47.50 general admission

Not on the e-mail list for Presales? Sign Up to be a Belly Up VIP and you will never miss a chance to grab tickets before they go on sale to the general public again!