8:00PM
(Doors:

7:00PM

)
$25.00 - $39.00
Ages 21 and Up
This show is at Belly Up
143 S. Cedros Ave, Solana Beach, CA
Genre: country western / latin
Ticket Price: $22 advanced / $25 day of show / $39 reserved loft seating (available over the phone 858-481-8140 or in person at our box office) (seating chart / virtual venue tour)




Not on the e-mail list for Venue Presales? Sign Up to be a Belly Up VIP and you will never miss a chance to grab tickets before they go on sale to the general public again!
There are No Refunds or Exchanges on tickets once purchased.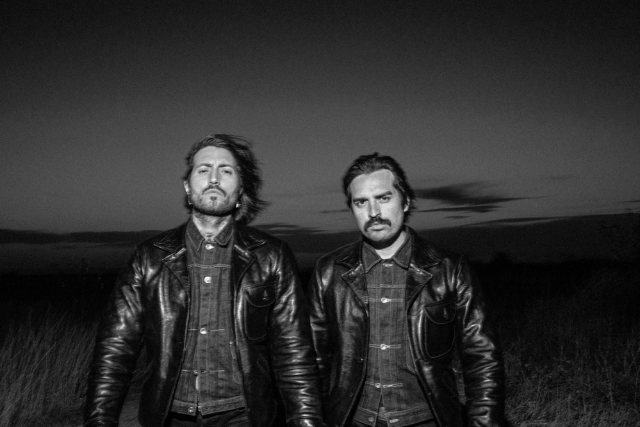 Hermanos Gutierrez
Genre: Country
"When Alejandro and I play together, it's like we are driving a car," says Estevan Gutiérrez, one half of the guitar duo Hermanos Gutiérrez. "It's like we are taking a road trip. Sometimes we're driving through a desert. Sometimes we're traveling up the coast. But always we are in nature, and we see the most beautiful landscapes, sunrises, sunsets." The music these two brothers make evokes expansive plains and rough wildernesses, saguaros and surfs, spaghetti westerns and Morricone soundtracks, Lynch and Jarmusch. With their guitars they travel through landscapes haunted by vaqueros, cancioneros, wanderers, fugitives, lovers, family—and whatever ghosts their listeners bring to the music. "Each album is a journey on its own," says Alejandro Gutiérrez. "We just have to go with the music, trust in ourselves, and see where it takes us."
El Bueno Y El Malo is their most epic journey yet: Working with the Black Keys' Dan Auerbach at his Easy Eye Sound Studio in Nashville, they've crafted ten vivid compositions that highlight their intimate guitar playing, where one brother's rhythms and the other brother's melodies twine around each other so that they become inextricable. Together, they generate what Estevan calls a "deeper, darker energy" defined by complex arrangements, sophisticated playing, and most of all their very close relationship. "We have such different personalities and such different approaches," says Alejandro," but in the end we have a strong balance. Because we're brothers and because we love each other, there's always this connection."
The sons of a Swiss father and an Ecuadorian mother, Hermanos Gutiérrez have only been playing together for a few years, but music has always been a point of connection for them. "I started playing guitar because of my brother," Alejandro says. "He was always playing, and I loved the sound of it. Then he went to Ecuador for a year, and as an expression of missing him, I started playing the guitar as well. I learned by trying to imitate other songs, but soon realized that I didn't like playing covers. I wanted to play my own music."
In the mid 2010s Alejandro moved to Zurich, not too far from the small village where his brother lived. One night he invited Estevan over and told him to bring his guitar. Together, they worked out a few melodies that quickly turned into fully realized songs. They didn't intend to start a band together, but soon decided to record an album. They booked time in a studio and soon emerged with their full-length debut, 8 Años, named for the age difference between them. Their only ambition was to make a keepsake for themselves and their families: "We love collecting old vinyl, so we thought we should make our own," says Alejandro. "But it was also a moment for us to reconnect. Music helped us to be together in the same moment and create something new. So let's just do a record for us."
Their success is proof that unique and imaginative music will find its audience. "My brother and I," says Estevan, "we did everything by ourselves— all the music, even the artwork. But during Covid, our music was streamed all over the world," especially their 2020 album, Hijos del Sol. Perhaps because people were looking for an escape from their worries or were traveling to new landscapes without leaving their homes, the music of Hermanos Gutiérrez spread by word of mouth, eventually finding its way to Auerbach. After a twenty-minute conversation, they signed with Auerbach's Easy Eye Sound Records and started writing songs for their forthcoming album.
"We didn't know what it would be like working with someone else," says Alejandro. "But sometimes those moments can be crucial. They can bring new energy into a project. That can be very inspiring, but still, how is it going to work?"
Their misgivings were quelled as soon as they arrived at Easy Eye Sound Studio, and within twenty minutes they were already recording—not that they were even aware that the sessions had started. As Estevan recalls, "We just plugged our guitars in and started playing, just to present the music to the whole team. When we stopped, Dan says, Okay, from the top. We didn't even realize that he was recording. Alejandro and I looked at each other and said, "he really feels the music. He's not looking for perfection. He's looking for feelings. He's looking for a moment. We're the same.'" That first song was the title track, with Alejandro's delicate fretwork like a mirage on the horizon and Estevan's chords rumbling like thunder in the distance. Together, the brothers evoke a landscape that's all the more beautiful for being slightly forbidding.
That initial take set the tone for the sessions: They worked on the fly, hewing closely to the songs they had brought over from Switzerland while remaining open to any and all new ideas. "We came to Nashville with a clear sense of what we wanted to do," says Alejandro. "The more structure you have, the more you can improvise. You can feel prepared, but also open to changes. Nobody tried to impose an idea or change our essence. It was all about adding subtle things and enriching the whole—expanding this universe we had created." El Bueno Y El Malo gently expands their sound, retaining the foundation while adding drums, castanets, strings, and congas. The additions are more than subtle; they're subliminal. They focus the attention on the two main figures and the intricate, almost telepathic interplay of their instruments.
"They move so quickly when they're working in the studio," says Auerbach. "They have such a vision for what they're doing and a good sense of what belongs and what doesn't." In perhaps the most significant addition to their two-guitar sound, their producer even played on one song. As the brothers struggled with an arrangement, Auerbach suggested an idea for a melody, even plugging in and playing it for them. They loved it so much they invited him to record it for them, even retitling that song "Tres Hermanos." He settles into the band easily, as they all trade lead back and forth among each other, each guitar with its own tone, its own personality, its own motivation and mission. "I was just hearing something in the song and was flattered that they invited me to play and even renamed it," he says. "It was definitely an honor to be brought into that very tight circle."
The title of the album is, of course, a reference to Sergio Leone's legendary 1966 spaghetti western The Good, the Bad, and the Ugly and especially its score by Ennio Morricone. But the phrase has a deeper meaning: "We think that everybody has a good side and a bad side," says Estevan. "It's every person, every moment, every situation. Everybody has these two faces." It's not a cynical idea, but one that celebrates the depths and dualities of humanity, and music—even music that does not include vocals or lyrics—is the perfect vehicle to explore such big ideas. "Instrumental music is so powerful," says Alejandro. "It's there, but it's not there. You can immerse yourself in it, or it can just be in the background. We love the idea of taking up however much space the listener wants. There's potential for everyone putting a little of themselves into the music."
Genre: country western / latin
Ticket Price: $22 advanced / $25 day of show / $39 reserved loft seating (available over the phone 858-481-8140 or in person at our box office) (seating chart / virtual venue tour)




Not on the e-mail list for Venue Presales? Sign Up to be a Belly Up VIP and you will never miss a chance to grab tickets before they go on sale to the general public again!
There are No Refunds or Exchanges on tickets once purchased.