8:00PM
(Doors:

7:00PM

)
$35.00 - $195.00
Ages 21 and Up
This show is at Belly Up
143 S. Cedros Ave, Solana Beach, CA
Genre: alternative
Ticket Price: $35 advanced / $35 day of show / $62 reserved loft seating (available over the phone or in person at our box office) (seating chart / virtual venue tour) / $195 The St. Lucia Pre-Show Hangout Experience (VIP1) (available online only) / $95 The St. Lucia Soundcheck Experience (VIP2) (available online only)
The St. Lucia Pre-Show Backstage Experience - VIP 1 Includes:
One general admission ticket
Early entry into the venue
Private pre-show hangout with St. Lucia
Personal photo with St. Lucia
Pre-show toast with the band
Access to an intimate preshow soundcheck performance + Q&A
Group photo in front of the stage with St. Lucia
Limited edition tour poster; autographed by the band
Specially designed "Rocket On My Feet" socks
Exclusive St. Lucia branded tote bag
Commemorative pre-show laminate
Very limited availability
The St. Lucia Soundcheck Experience - VIP 2 Includes:
One general admission ticket
Early entry into the venue
Access to an intimate preshow soundcheck performance + Q&A
Group photo in front of the stage with St. Lucia
Limited edition tour poster; autographed by the band
Specially designed "Rocket On My Feet" socks
Commemorative pre-show laminate
Limited availability
For questions regarding the VIP packages, please reach out to info@future-beat.com. VIP merchandise will be distributed at the show. 
Belly Up & Casbah Present

Not on the e-mail list for Venue Presales? Sign Up to be a Belly Up VIP and you will never miss a chance to grab tickets before they go on sale to the general public again!
There are No Refunds or Exchanges on tickets once purchased.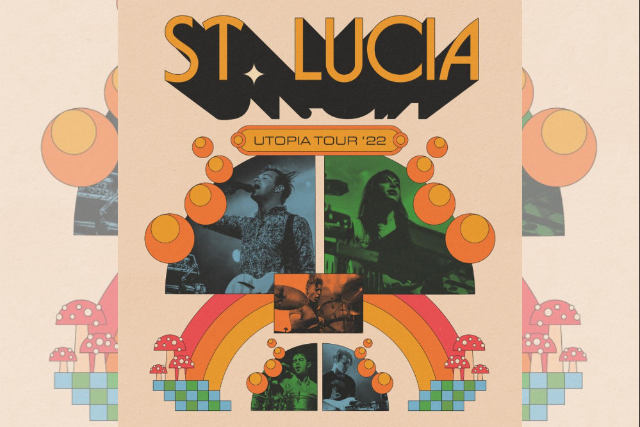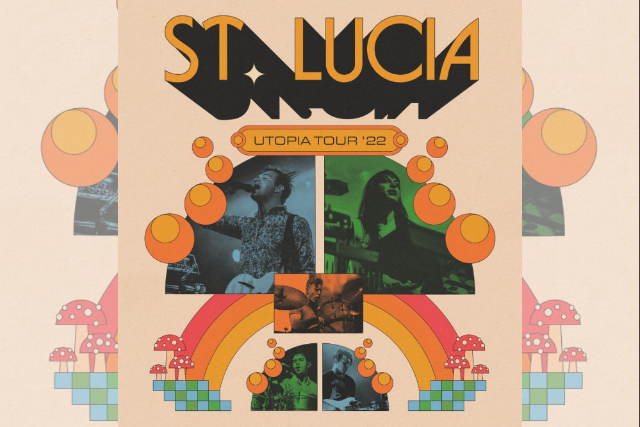 St. Lucia
Genre: Rock
Utopia could be a physical location. It could be a certain era. It could simply be a state of mind. The definition varies for each of us, but its core concept of bliss, safety, and perfection persists. Perhaps now more than ever, we seek such nirvana. Often, we need to create this feeling ourselves.
That's what St. Lucia has done with their first new music in 4 years.
Led by husband-and-wife duo South Africa-born Jean-Philip Grobler and Germany-born Patti Beranek, the group retreat from a fractured world on fire and into the glow of a rapturous synth-spiked electro-pop catharsis—like a dance party at the edge of existence. On the aptly titled Utopia I EP, St. Lucia beams out a light of their own and shines brighter than ever.
"In a way, this is my personal rebellion against the darkness of the world," states Jean-Philip. "From the beginning, the name St. Lucia came from me making escapist music. In South Africa, there's a place called St. Lucia, and it's similar to the island in the Caribbean because it's where you escape. It's utopia. There are many ideas of utopia, whether it means virus-free or a virtual tech utopia. It's easy to feel depressed these days, so I'm trying to bring something joyous to the world. I was sick of seeing shit on the Internet, and I just wanted to feel good. That's what being human is about. We have to feel alive, no matter what is happening around us."
St. Lucia has always stirred these kinds of feelings. It started with When The Night, which boasted fan favorites such as "Elevate," "All Eyes On You," and "Closer Than This." The follow-up Matter yielded the hit "Dancing On Glass," generating 66 million Spotify streams and counting. Two years later, Hyperion represented a creative and critical high watermark. Beyond praise from FLOOD, Riff Magazine, and more, Billboard hailed it as "buoyant," while Pop Matters raved, "it feels almost revelatory." After a successful tour, the Global Pandemic descended upon the world, and Jean-Philip and Patti quarantined in their New York apartment with their eldest son Indy.
Though they had already recorded most of their next album, it was set aside for the time being as new material started to take shape. Eventually, they stole away to Patti's hometown of Konstanz, Germany, in the summer of 2020 before bouncing back to Upstate New York, where their son Charlie would be born.
Simultaneously, Jean-Philip quit social media and found reprieve by swimming in a nearby frozen lake. "The social media break gave me a subconscious cleanse going into the record," he admits. "I got back to a pure place. Similarly, music was just pure enjoyment and exploration. I decided to swim in the lake almost every day when we were upstate. There were days I chipped through the ice to swim. I even got frostbite on my feet because I walked through the snow barefoot once. It gave me light in the darkness."
He carried that light into the process. Inspired by everyone from David Bowie, The Weeknd, Daft Punk and Parcels, he wrote and recorded at a feverish pace. Settling back in Germany in 2021, the project came to life in their home studio. They enlisted the mixing talents of trusted collaborator Chris Zane [Passion Pit, The Walkmen] and buttoned up the first installment of Utopia. The opener "Separate World" rides shimmering keys, handclaps, and a propulsive groove towards a disarmingly catchy warning, "Don't bother trying to sneak through the noise, 'cause we're all living in a separate world." Its rapid-fire cadence nods to R.E.M's "It's The End Of The World As We Know It— if it were written in the age of Bitcoin.
"'Separate World' has a rock 'n' roll vibe," he notes. "It deals with messed up aspects of the modern age like our obsession with Bitcoin, video games and misinformation. At the same time, it's a bit political. If you share your opinion, the reaction is black-and-white. People live in their social media bubbles, and it's why we're experiencing such division. By nature, I'm very diplomatic. I like to hear different opinions. 'Separate World' is the result of striving for Utopia."
Euphoric harmonies flutter across a muscular synth-bass line on "Another Lifetime," locking into a steady rhythm. "It's about feeling the rhythm of life, almost like the force in Star Wars," he reveals.
"Rocket On My Feet" hinges on high-register vocals underlined by neon-hued disco keys, inciting instant movement. "Sometimes, all you want to do is just be a simple human and dance," he adds. "Once you give yourself the space to escape, you can take flight."
Elsewhere, "The Golden Age" professes an eternal truth with a shimmering call-and-response. "'The Golden Age' is always accessible to you," he observes. "You can blame social media or politics. At the end of the day, we can all somehow find stillness within."
While carrying a newborn Charlie in his baby carrier, he wrote and recorded the bulk of "Memory." Fittingly, it unfurls like a dreamy nighttime lullaby. "Since Charlie was sleeping on me, I was trying to sing as quietly as possible," he smiles. "It's a special moment I could never replicate, so most of what you hear is from that night. There are no lyrics. I could never top the scratch vocal I recorded while Charlie was on me in terms of the way I felt. If I wrote and sang actual words, I felt it somehow to take away from the moment."
In the end, St. Lucia welcomes everyone into the embrace of the EP.
"When you listen to this, I hope you feel inspired and like life is worth living," he leaves off. "I wanted to give you a soundtrack to either go smoothly through these challenges or fight against them. St. Lucia is everything to me. It's me trying to express myself as much as I can. It's me trying to exact some change in the world through this strange medium of music."
Patti concludes, "I feel really proud of Utopia. I think there is purity in it that you can't really describe. You just have to listen and feel it. I think that this comes from a variety of things—having another child, being parents, and being thrown into a weird time in our lives. It unleashes things, and I think we did a good job capturing that."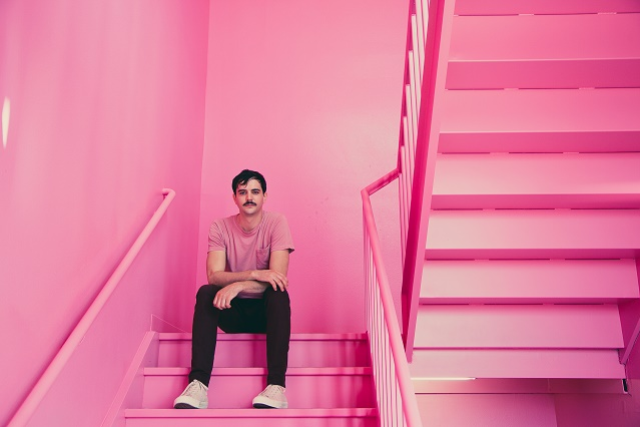 Bayonne
Genre: New Age
Each song on Bayonne's Drastic Measures is orchestral in texture,unfolding in countless layers and kaleidoscopic tones. With great intensity of detail, the Austin-based artist otherwise known as Roger Sellers deepens that sonic complexity by weaving in elegantly warped samples of the field recordings he's gathered for over a decade. But in its powerful melodies and pristine arrangements, Drastic Measures ultimately bears a pure pop lucidity even in its most grandiose moments.

Driven by the dynamic percussion and luminous piano work signature to Bayonne's sound, Drastic Measures takes its title from a track that embodies the album's central theme: the instability inherent in an artist's life, and the often-futile attempt to attain balance. With its unrelenting urgency and heavy-hearted lyrics ("Common sense should tell me that the ones I've sinned against say goodbye"), "Drastic Measures" looks at the disorienting effects of constant touring. "After a while you kind ofstart to lose touch with home and your friends and your family," says Sellers. "You come back and feel like you've missed out on a lot, like you're stepping into a whole different life." And as the album offers up many a transcendent melody and anthemic chorus, Drastic Measures also reflects the volatility of moods within that way of life. "There can be so many highs and lows in such a small amount of time," says Sellers. "I remember my parents flying to one of my shows in Brooklyn and feeling incredibly grateful that I got to share it with them. Just weeks before that I was touring through Germany, feeling so isolated and lost. The ups and downs can be crazy if you don't actively try to manage them."

The crystalline production of Drastic Measuresmarks a departure from Primitives, Bayonne's entirely self-produced and more loosely structured full-length debut. In shaping the immaculately composed album, Sellers partly drew inspiration from the sublime melodicism of 1960s symphonic pop. "I spent a lot more time thinking about the little subtleties than I ever had before, and putting more thought into the meaning behind the songs and the best way to get that across," he says. "It felt like a natural progression for me—I wanted to make the musicmore accessible to people, including myself." Mixed by Beatriz Artola (Fleet Foxes, A$AP Rocky, Adele) and mastered by Josh Bonati(Mac DeMarco, !!!, Zola Jesus)—but fully produced and mostly tracked by Sellers himself—Drastic Measuresalso finds themulti-instrumentalist enlisting several close musician friends to instill the songs with a more kinetic energy.

As Drastic Measures muses on such matters as fractured relationships and the erosion of mental health, Bayonne builds a dizzying tension between the album's bright and dark elements. On "Uncertainly Deranged," skittering beatsand shining piano tones clash with lyrics echoing the anxiety of self-doubt. One of the most delicate and simply adornedtrackson the album, "Same" spins a gentle reverie out of a moment of wistful longing.And on "I Know," bouncy rhythms and whistled melodies make a brilliant backdrop to Bayonne's meditation on overwhelming remorse.

Further revealing the inventive instincts behind Bayonne'sartistry, "I Know" opens with a fragment from his vast collectionof field recordings. "It almost sounds like a ship, but it came from arecording of a street drummer playing on a bunch of paint cans," Sellersnotes. Although his library is mostly made up of everyday sounds—birds chirping, people talking in restaurants, feet stomping through fallen leaves—Sellers typically distorts the recordings to give them a more surrealquality.On the sprawling instrumental centerpiece "Enders," for instance, he constructeda beautifully eerie sample by altering the creak of an oven door. "At first I was trying to get a sort of horror-movie sound effect out of it, but I ended up manipulating it so it sounds like a dolphin or a whale or some other kind of underwater creature," says Sellers.

Throughout the album, Sellers matches his bursts of experimentation with the graceful piano playing he's honedsince he was a little kid. Halfway through high school, he started writing his own material, and self-recording with the help of his family's tape machine. By his early 20s he'd discovered minimalist composers like Steve Reich and Terry Reilly, which led him to infuse an atmospheric, ethereal quality into much of his work. And with the release of Primitives in spring 2016, Sellers adopted the moniker of Bayonne as a way to distinguish his more electronically crafted output from his other musical projects. "I'd been playing a lot of shows with a very folk-based set, so using a different name was a way to separate those two personalities," he explains.In bringing Drastic Measures to life, Sellers merged his increasingly classic-pop-inspired sensibilities with a production approach closely focused on looping, layering, and overdubbing."Even if you hear something simple like clapping or finger snaps, it's probably layered 10 or 20 times," he says. "I just like to stack and layer everything to get these big sounds, and create areally widesonic space within the songs."

No matter how big those sounds become, Bayonne maintains a certain sense of intimacy throughout Drastic Measures—an effect that has much to do with his playful use of the field recordings he's captured since he was a teenager."A lot of the time, I put them so far in the background that you might not even hear it," says Sellers. "But that's how I like it—I like having these little memories built up and then sticking them randomly in places all over the album. It's almost like having some kind of diary within the music, and it gives it so much more meaning when I go back and listen."
Genre: alternative
Ticket Price: $35 advanced / $35 day of show / $62 reserved loft seating (available over the phone or in person at our box office) (seating chart / virtual venue tour) / $195 The St. Lucia Pre-Show Hangout Experience (VIP1) (available online only) / $95 The St. Lucia Soundcheck Experience (VIP2) (available online only)
The St. Lucia Pre-Show Backstage Experience - VIP 1 Includes:
One general admission ticket
Early entry into the venue
Private pre-show hangout with St. Lucia
Personal photo with St. Lucia
Pre-show toast with the band
Access to an intimate preshow soundcheck performance + Q&A
Group photo in front of the stage with St. Lucia
Limited edition tour poster; autographed by the band
Specially designed "Rocket On My Feet" socks
Exclusive St. Lucia branded tote bag
Commemorative pre-show laminate
Very limited availability
The St. Lucia Soundcheck Experience - VIP 2 Includes:
One general admission ticket
Early entry into the venue
Access to an intimate preshow soundcheck performance + Q&A
Group photo in front of the stage with St. Lucia
Limited edition tour poster; autographed by the band
Specially designed "Rocket On My Feet" socks
Commemorative pre-show laminate
Limited availability
For questions regarding the VIP packages, please reach out to info@future-beat.com. VIP merchandise will be distributed at the show. 
Belly Up & Casbah Present

Not on the e-mail list for Venue Presales? Sign Up to be a Belly Up VIP and you will never miss a chance to grab tickets before they go on sale to the general public again!
There are No Refunds or Exchanges on tickets once purchased.