8:00PM
(Doors:

7:00PM

)
$55.00 - $88.00
Ages 21 and Up
This show is at Belly Up
143 S. Cedros Ave, Solana Beach, CA
Ticket Price: $55 advanced / $60 day of show / $88 reserved loft seating (available over the phone 858-481-8140 or in person at our box office) (seating chart / virtual venue tour)
Not on the e-mail list for venue presales? Sign up to be a Belly Up VIP and you will never miss a chance to grab tickets before they go on sale to the general public again!
There are no refunds or exchanges on tickets once purchased.
All times and supporting acts are subject to change.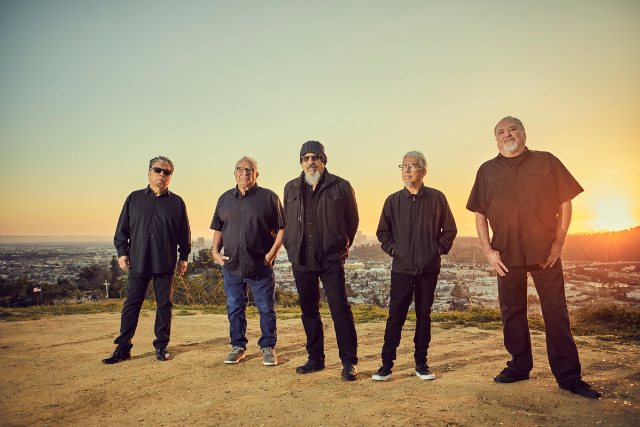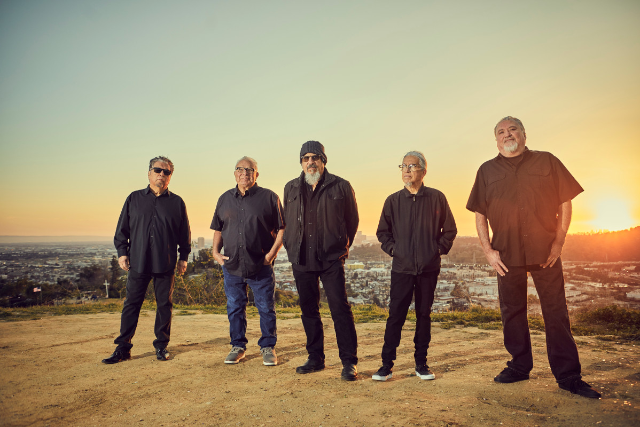 Los Lobos
LOS LOBOS AT 50
It's a matter of time. 50 years to be exact. And in that time Los Lobos have created an unprecedented body of work, a legacy of greatness. The numbers are staggering: 100+ gigs a year for five decades running, crossing millions of miles to rock millions of fans. And that's just at the live shows. In between they've recorded 17 studio albums, 7 live LPs, 3 compilations, 2 EPs, 2 DVDs, and contributed 40+ guest appearances on their friends' recordings — all garnering 5 Grammys, an Austin City Limits Hall of Fame induction, the ALMA Richie Valens Pioneer Award, NEA and Hispanic Heritage Foundation Honors, Congressional recognitions, plus countless "Keys to the City" and "Los Lobos Day" celebrations. And those are just a few of the highlights. But beyond all the hoopla and applause (and the source of it all, really) is the tremendous heart. Rather, hearts. Cinco corazones. Five blood brothers who have dedicated their off-stage time to helping others, working for peace and justice, penning some of the most literate and important music of their time, transforming the hard cries from the East L.A. barrio into songs of hope, tales of common folk finding ways to endure. The young wolves were weaned on late-night radio's soul, R&B, and doo-wop. Were cured through the African-American currents of the blues, jazz, and rock 'n' roll. An amalgam. As proud Chicanos, their songs have always glistened with the distillation from their Mexican and Latin American roots — nourished by Norteña and rancheras, buoyed by bolero and cumbias, soaring on the rhythms of son huasteco and son jarocho. Los Lobos have helped spread the rich diversity of cultures across every continent, throughout the global community. Kids in Antwerp now know about Aztlán. Residents of Luxor and Ghana are crooning Lalo Guerrero. People from Laos and Bulgaria are belting "La Bamba" — all thanks to The Wolves as cultural ambassadors. Talk about a living legacy. Talk about a productive half century. And in the true rebel spirit, they did it all on their own terms, against formula. For the ages. To our delight. Quite simply, they are one of the tightest, one of the best, one of the most prolific bands ever. And, amazingly, with the original founding members as the pack the entire time. Unprecedented. As their liner notes put it, quite simply: "Los Lobos still are David Hidalgo, Louie Pérez, Jr., Cesar Rosas, Conrad Lozano, Steve Berlin."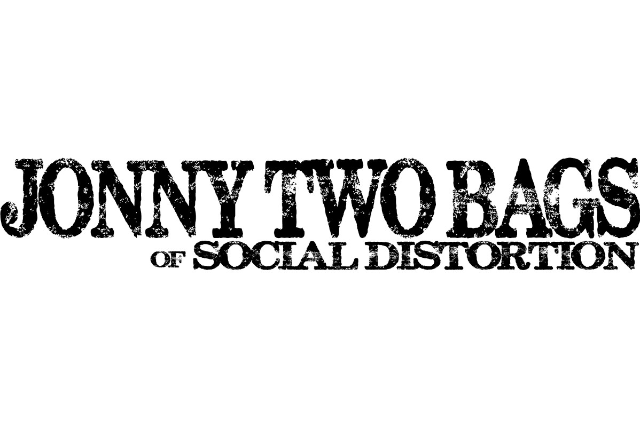 Jonny Two Bags
LOS ANGELES, Calif. – Salvation Town, the surprising and powerful solo debut by Jonny Two Bags, guitarist for the Southern California punk rock institution Social Distortion, defies expectations at every turn.
Produced by David Kalish, noted for his long association with Rickie Lee Jones, at his Redstar Studio in Los Angeles, the album, released by Isotone Records via Nashville's Thirty Tigers on April 1, 2014, features 10 striking original songs written by Jonny Two Bags, a.k.a. Jonny Wickersham.
A diverse array of talent that spans the musical spectrum was enlisted for the recording. Revered singer-songwriter Jackson Browne shares vocals with Wickersham on "Then You Stand Alone," while David Lindley, whose guitar work graced several of Browne's classic '70s albums, contributes to four tracks. Los Lobos' multi-instrumentalist David Hidalgo and his sons David Jr. and Vincent join in on "Wayward Cain" and super-sideman Greg Leisz (Lucinda Williams, Eric Clapton, k.d. lang, Dave Alvin) also appears on guitar. The drum chair is filled by Pete Thomas, a mainstay of Elvis Costello's bands The Attractions and The Imposters. Guest vocalist Gaby Moreno (recent Latin Grammy Award winner as Best New Artist) sings on "Avenues." Other vocal guests include Julie Miller (wife and collaborator of Buddy Miller) and backup singers Terry Evans and Arnold McCuller, best known for their work with Ry Cooder and James Taylor. Wickersham's colleagues in Social Distortion, keyboardist Danny McGough and bassist Brent Harding, join on a few tracks while Austin accordion luminary Joel Guzman and bassist/punk kingpin Zander Schloss (Weirdos, Circle Jerks, Thelonious Monster) round out the lineup.
The roots-based sound of Salvation Town carves out new stylistic terrain for Wickersham, who joined Social Distortion in 2000 after the untimely death of his friend Dennis Danell.
A product of Southern California, Jonny Two Bags had already put together a formidable punk rock résumé before joining Social Distortion. He co-founded the Orange County band Cadillac Tramps, cutting three albums with the group, and subsequently recorded and toured with L.A. punk unit Youth Brigade as well as pro skateboarder Duane Peters' hard-edged U.S. Bombs.
Wickersham, who co-wrote several songs with Ness for Social Distortion's albums Sex, Love and Rock 'n' Roll (2004) and Hard Times and Nursery Rhymes (2011), was also penning songs of his own during that time. He says, "I've always been a sideman, so I usually write songs with the hope that the singer will like what I've written, take it, tweak it and maybe add some verses of his own."
Producer Kalish had been urging Wickersham to make his own record for years. Finally, after tempting him with the opportunity to record with Pete Thomas, one of his favorite drummers, Wickersham could no longer resist and work on Salvation Town began. Over the next two years Kalish helped iron out some new tunes and put the finishing touches on pre-existing tunes like "Then You Stand Alone" and "Forlorn Walls" in between Wickersham's stints recording and touring with Social Distortion.
The material reflects a multiplicity of musical styles and influences. Wickersham's father, a professional musician who played folk, rock 'n' roll, and country-rock, instilled in him a love of Southern California musicians like Jackson Browne, Warren Zevon and Linda Ronstadt. Wickersham's own taste in contemporary performers runs the gamut from Lucinda Williams and Ryan Adams to Calexico.
Wickersham adds, "As a second- or third-generation punk guy from Orange County, the kings of the music world for me were The Blasters, Los Lobos and X. That school of musicians was as real as it could ever get. I connected with that really early on. That's how I discovered music — basically, through those artists, the L.A. rockabilly scene, the L.A. roots-punk scene. They schooled me when I was still a little punk rocker on a skateboard."
Wickersham says he was set on making an honest-sounding album without resorting to an overly manicured studio sound: "I was used to making raggedy-sounding music and I wanted to stay true to that without making a punk rock record. It was important to me to record something that doesn't sound over-produced and still has some spirit."
The combination of Wickersham's roots-music orientation and his dark, hyper-realistic compositions made for a stylistic shift that even the musician himself didn't anticipate. "The finished product is not necessarily what I set out to do," he says. "It's not a guitar record, and that's something that I wouldn't have expected."
For many, the greatest revelation of Salvation Town will be Wickersham's accomplished, fully-realized songwriting, which grew out of his tumultuous youth in the L.A. and Orange County music scenes. Writing and recording this album of streetwise and sometimes painfully frank songs about a life lived with "one foot in the gutter and one foot kicking in the door to Heaven" proved to be somewhat of a cathartic experience.
He notes, "As I was making this record, I realized that in some of these songs I'm singing about things that happened a lifetime ago for me and that was challenging. I just accepted the fact that I needed to purge myself on this record. I wrote about things that happened when I was growing up, feelings and experiences that I have had … stuff that I have never been that open about. Even though my life is different now all of those experiences are still hanging there, just below the surface. I guess it never really goes away … those that have lived it know."

Ticket Price: $55 advanced / $60 day of show / $88 reserved loft seating (available over the phone 858-481-8140 or in person at our box office) (seating chart / virtual venue tour)
Not on the e-mail list for venue presales? Sign up to be a Belly Up VIP and you will never miss a chance to grab tickets before they go on sale to the general public again!
There are no refunds or exchanges on tickets once purchased.
All times and supporting acts are subject to change.