Seated Show
8:00PM
(Doors:

7:00PM

)
$58.00 - $97.00
Ages 21 and Up
This show is at Belly Up
143 S. Cedros Ave, Solana Beach, CA
Ticket Price: $55 advanced seat / $58 day of show seat / $97 reserved loft seating (available over the phone 858-481-8140 or in person at our box office) (seating chart / virtual venue tour)
A SEATED SHOW
Not on the e-mail list for venue presales? Sign up to be a Belly Up VIP and you will never miss a chance to grab tickets before they go on sale to the general public again!
There are no refunds or exchanges on tickets once purchased.
All times and supporting acts are subject to change.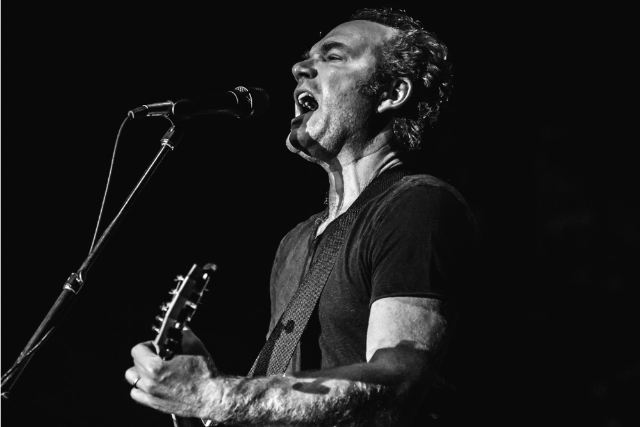 Five for Fighting
The only way for a story to progress is to turn the page. John Ondrasik -- the songwriter and performer known as the platinum-selling, Grammy-nominated, Five For Fighting -- knows this well. In the two decades since his first major single, "Superman (It's Not Easy)," hit the stratosphere, the artist has both evolved and come back 'round full circle. Creativity, if nothing else, is paradoxical.

To date, Five For Fighting, has released six studio LPs, including the platinum certified America Town and The Battle for Everything; and the top-10 charting Two Lights, along with an EP and live albums.

Ondrasik has penned major hits, including the chart-topping "100 Years," "The Riddle," "Chances," "World," and "Easy Tonight," which have earned tens of millions of streams and place him as a top-10 Hot Adult Contemporary artist for the 2000s. The reflective "100 Years" has joined "Superman (It's Not Easy)" as part of the American Songbook and continues to stand the test of time at weddings, birthdays, graduations, memorials, and many a home video. Five For Fighting's music has also been featured in more than 350 films, television shows, and commercials, including the Oscar-winning The Blind Side, Hawaii Five-O, The Sopranos and the CBS drama, Code Black.

Referencing Fight For Fighting's success in the 2000s, AllMusic called Ondrasik "one of the decade's leading balladeers." But perhaps his biggest achievement is performing "Superman (It's Not Easy)," at the 2001 Concert for New York, a benefit show at Madison Square Garden that honored first responders and the fallen about a month after the tragic September 11th attacks. Ondrasik performed alongside other big-name artists like Paul McCartney, The Who, Elton John, Billy Joel, and dozens more.

Says Ondrasik, "It was a surreal experience. I was honored and blessed to pay tribute to the heroes who ran into those buildings at ground zero, and hopefully, through a song, provide a little solace to family members who'd lost loved ones."

Now, though, what once was a dream is a reality. Buoyed by his unique falsetto voice and his prowess on the piano -- a skill bestowed to him by his piano teacher mother -- Ondrasik has made a solid reputation for himself in the world of songwriting and performance, selling upwards of three million albums over his career. Not only does he tour with his popular string quartet and play solo and rock band gigs, but he is also a high demand keynote speaker in which he combines themes of creativity and innovation with his business acumen. Along with his father, he has managed the family business throughout his musical career. As Ondrasik happily puts it, his company, Precision Wire Products, "makes the best shopping cart in the world!"

He's presented at TEDx, The Salk Institute, American Cancer Society, and dozens more. Perhaps being the son of an astrophysicist dad and having a degree in mathematics from UCLA has something to do with it.

"Math was the Plan-B to get a real job when the music thing imploded," says Ondrasik, with a chuckle.

But that doesn't mean he wasn't always a student at heart. As he wrote songs in his late teens and early 20s, the Los Angeles-born Ondrasik studied his favorite rock vocalists. Finding out that singers like Freddie Mercury and Steve Perry studied classical voice, he did too, even seeking out some of those icons' former teachers. No stone unturned.

Most recently, his song with the biggest sticking power is the powerful, "Blood on My Hands," a protest song that takes a non-political, moral stance against the 2021 United States chaotic withdrawal from Afghanistan.

While he's well-versed in politics, he isn't of a bickering mindset. For Ondrasik, it's about the conversation. "Blood on My Hands," the track, accompanying acoustic version, and docu-music video, "Blood on My Hands (White House Version)," has had millions of streams to date (despite little-to-no radio play). Like other protest songs of the past -- "Ohio" by Crosby, Stills, Nash & Young or "The Times They Are a-Changin'" by Bob Dylan -- Ondrasik aimed to point out a problem. While it's critical of President Biden's administration, he says that if a Republican were President, the song would remain the same, only the names would change.

Thanks to the song, Ondrasik is now working with evacuation groups that strive to help the American citizens left behind in Afghanistan by the U.S. government, as well as the Afghan people who remain there largely under the threat of terrorism. It's a difficult, and at times a polarizing subject, but it's one Ondrasik is not shying away from. Not because of any politics or partisan pats on the back, but simply because he knows it's the right thing to do.

Ondrasik notes, "There has been a tradition of musicians speaking truth to power. In the current tribal culture, our freedom of expression has never been more critical."

Throughout his multi-decade career, which began when music publisher Carla Berkowitz (now his wife of 25 years) discerned him in a dive bar, Ondrasik has been involved in multiple charity efforts. Along with supporting the troops via multiple USO tours, Ondrasik created "The CD For the Troops" project with song and comedy compilations featuring artists like Billy Joel, Melissa Ethridge, Chris Rock, and others, gifting more than one million CDs to veterans and military families. John has also been deeply involved with the ALS charity "Augie's Quest."

While he may not be as obsessive as he once was -- writing upwards of dozens of songs per month, Ondrasik is more focused today. He knows who he is, as an artist and as a human being. His is a career molded by light and darkness. At one point, he'd been looked over by every publishing house and label out there. At another, he had one of the biggest songs in the world. Those extremes give a person perspective.

"I've been incredibly blessed," he says. "I still pinch myself."

As Five For Fighting, which is a professional hockey term designating a five-minute penalty for fisticuffs on the ice, Ondrasik has also developed a close relationship within the world of sports. He was a contributing writer for Sports Illustrated as well as for his beloved Los Angeles Kings. Five For Fighting was one of the first musical artists to perform on ESPN's SportsCenter, and has played The Daytona 500, Monday Night Football, The Heritage Classic, the L.A. Kings outdoor hockey game, and more.

"Singing from home plate at Dodger stadium," Ondrasik says, "where, as a five-year-old boy, my dad and I would catch bleacher bombs during batting practice -- that was a dream."

Today, Ondrasik spends his time writing music, touring, working at the family business, and enjoying life with his wife, two children, and dog Ender.

Through "What Kind of World Do You Want," Ondrasik's charity driven website -- WhatKindofWorldDoYouWant.com -- he is currently raising funds for Afghan evacuation organizations, refugees and veteran mental wellness charities. The singer also launched his new episodic web docu-series titled "Meet the Heroes," which features Ondrasik interviewing heroic Americans who are involved in rescuing and evacuating American citizens, Afghan allies, and persons of high risk from Afghanistan.

What motivates him musically now? He wants to promote dialogue. He's set to speak his mind. In song, with the piano.

Ondrasik doesn't shy away from nuance. He embraces it and seeks it -- just as he does the next chorus, the next verse. It's what artists and freethinkers do, after all.

It's his gift to share.

His decided obligation, too.
Ticket Price: $55 advanced seat / $58 day of show seat / $97 reserved loft seating (available over the phone 858-481-8140 or in person at our box office) (seating chart / virtual venue tour)
A SEATED SHOW
Not on the e-mail list for venue presales? Sign up to be a Belly Up VIP and you will never miss a chance to grab tickets before they go on sale to the general public again!
There are no refunds or exchanges on tickets once purchased.
All times and supporting acts are subject to change.