HAPA (Barry Flanagan and Keli'I Kaneali'i)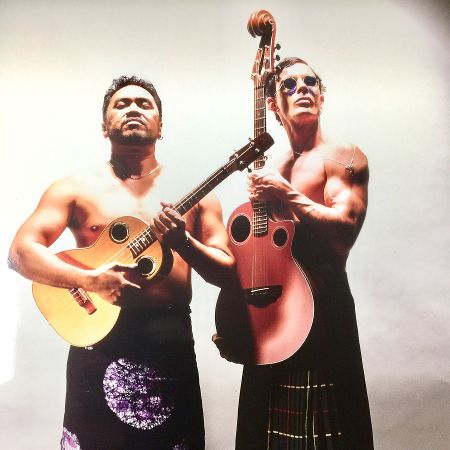 HAPA (Barry Flanagan and Keli'I Kaneali'i)
| | | |
| --- | --- | --- |
| Doors: | | 7:00 pm |
| Start: | | 7:30 pm |
| Age: | | Ages 21+ Only |
| Price: | | $25-$30 |
The Hawaiian singer-songwriter duo aims "To perpetuate "Olelo Hawaii", a Polynesian language that nearly died in the 1970's, and to change the way the world perceives Hawaiian Music."
Buy Tickets
Event Information
Not on the e-mail list for Presales? Sign Up to be a Belly Up VIP and you will never miss a chance to grab tickets before they go on sale to the general public again!
Genre: hawaiian
Ticket Price: $25 advanced / $30 day of show / $44 reserved loft seating (loft seating is available over the phone or in person at our box office)
AN EVENING WITH
HAPA
When I first moved to Maui in 1985 as a young musician, there was one group playing around town that everyone told me not to miss. It consisted of two guys with guitars—Irish-American Barry Flanagan and Native Hawaiian Keli'i Kāneali'i—who had teamed up to create a duo that took its name from a Hawaiian word that literally means "half" and that commonly refers to a person of mixed race—hapa. They were blending musical styles, influences and cultural backgrounds in a way that simply hadn't been heard before, people said. You have to go, they told me.

I did—and saw a duo that would go on to make Hawaiian music history, that would separate after eighteen years of legendary albums and performances and that now, thirty-five years after they first met, has reunited.

They were introduced to each other on Christmas Eve in 1983. Flanagan had been on Maui three years at that point, a transplant from New Jersey who'd moved to the island after losing virtually all his possessions in a house fire in Colorado. One of the first things he'd done was purchase a new guitar so he could continue honing the craft he'd taken up as a teenager. John Lennon had been shot the week Flanagan arrived, and his death hung like a dark cloud over the music community. Flanagan had no idea then that he'd go on to be part of a musical pairing that would draw inspiration from and comparisons to Lennon and McCartney.

On that fateful Christmas Eve, a friend invited Flanagan to a party at her uncle's house and told him to bring his guitar. "The house was packed, and I didn't want to walk in with this big guitar case," he remembers. "So I went to put my guitar down next to my rubber slippers outside, and I saw there was another guitar and pair of slippers next to it."

Flanagan had been studying Hawaiian language and music and got an unexpected workout when the two guitars came out of their cases. "We played for the first time together that night, and the magic was there right from the start," says HAPA's other founding half, the golden-voiced Kāneali'i, who would spend nearly two decades playing Simon to Flanagan's Garfunkel. Kāneali'i was the youngest of fifteen singing siblings—yes, fifteen—from a well-known musical family. Raised in Papakōlea on O'ahu, Kāneali'i had been singing with his family in church since before he was old enough to really talk—and with fourteen older brothers and sisters preceding him, never once did he have to audition for the school choir.

Almost as soon as they met, Flanagan and Kāneali'i were booking shows all over Maui. At the time, the Hawaiian language was in decline, and both artists agreed to a purposefulness about their collaboration, deciding to use their music to promote Hawaiian language and culture in a way that would entertain and attract people from all walks of life.

The first HAPA album debuted in 1993, ten long years after the group's formation, offering a body of work that had slow-simmered, gradually incorporating spices and flavors and carefully selected ingredients (such as guest appearances from Stephen Stills and Kenny Loggins) until it was practically flawless. "What really took so long with that first record was funding it," Flanagan says. "It was expensive, especially in those days, making real records on two-inch tape. We would sometimes do three gigs a day just raising money for the recording." Kāneali'i remembers loading up the calendar with multiple performances."We really played a lot: weddings, restaurants, clubs, everywhere we could," he says."We just powered out all over the island. Sometimes we'd be so tired we'd pull over and sleep on the side of the road. But it was fun. We loved working every day, and the music just got tighter and tighter."

It might have taken a long time to arrive, but there's no denying the results of that first effort. HAPA's self-titled debut album swept the 1994 Hawai'i Academy of Recording Arts' Nā Hōkū Hanohano awards, earning six awards including Best Album of the Year, Group of the Year, Song of the Year and Most Promising Artist. It went on to become one of the best-selling Hawaiian albums ever.

Fast-forward to 1995. We're at the studio to record HAPA's long-awaited second album, plus a bonus album full of surf music, and the pressure is on. After the success of their first album, there's been an incredible buildup of anticipation around the next release. I've been lucky enough to be invited by Flanagan to record with the group, the fulfillment of a promise he'd made to me years earlier when we were both playing gigs on Maui.

Flanagan and Kāneali'i discovered a natural harmony in their styles and voices as soon as they began playing music together in 1983.
It's 2 a.m. when I get word that it's time to get started. Groggily I pick up my drumsticks, rouse the sleeping bass player who's comfortably curled up on the floor of the recording studio and get ready to lay down tracks. It's been seven hours since we arrived at Studio Kahala, tucked away in a residence in east O'ahu, and it's finally time to start playing. What's taken so long? It's all been about finding the perfect guitar tone for the songs we're here to play, a quest that couldn't end until Flanagan was satisfied that things were "just right." From the mixing room I hear the carefully controlled squeal of a lead guitar settle into a warm, warbling sustain, and I know it was worth the wait: HAPA has nailed it again.

When the second album, In the Name of Love, came out in 1997, it debuted on Billboard's World Music Top 10 chart, and before long HAPA was playing as many as five hundred gigs a year, including up to eighty shows out of state. They kept that pace going until the rigors of the road and exhaustion caught up with them. In 2001 they parted ways.

During their years apart, Flanagan continued to perform, record and tour the Mainland and Japan with different HAPA accompanists. Talented Hawaiian musicians Nathan Aweau, Ron Kuala'au and Kapono Na'ili'ili all took turns in Kāneali'i's seat, while additional members of the performing entourage included at various times award-winning hula dancers, bass guitarists, percussionists, the slam poetry artist Kealoha and the chanter Charles Ka'upu, who was an integral, unforgettable part of the show from the early years until his passing in 2011. After Ka'upu died, Flanagan says, he felt tempted to call it quits and retire HAPA for good. But he persevered, kept busy and found enjoyment in bringing exposure to other artists. Meanwhile Kāneali'i continued as a solo performer, opting for a quieter life on Kaua'i, which ultimately led him to embrace spirituality and provided ample time to enjoy his favorite nonmusical pastime, golf. "I'm so much more comfortable and clear-minded now," says Kāneali'i. "My wife is a minister and she keeps me grounded."

If it had seemed surreal to sit behind the drums at Studio Kahala in 1995, it was even more so to sit in the audience at Blue Note Hawaii in April of 2018, watching the two onstage together again.

"I had had a dream about Keli'i's father," recalls Flanagan, when asked how the reunion came about. "And right around that same time, Keli'i also had a dream about us playing together. It had been seventeen years since we split, and during that time I'd only bumped into him once, at an airport. But we both had these dreams within days of each other, and I talked to his niece and we ended up getting together." That niece, Wailani Farm, was the same woman who had taken Flanagan to the Christmas Eve party in 1983. "It's just amazing how the Lord put it in both our minds at the same time, the same month," Kāneali'i says. "I never thought in my wildest dreams it would happen again, but here we are."

Turns out the years hadn't worn away much, if any, of the passion, talent or command the pair had over their music. "We just sat down, and to my total surprise, Keli'i had continued to play all of those songs, perfectly, in his solo shows the whole time we were apart," Flanagan says. "So they were all rehearsed, ready to play, polished, and we barely had to go through them at all. Literally, everything was just the way we had left off. It was like walking back into a house you used to live in."

In front of the sold-out audience, Flanagan and Kāneali'i settle into a routine they both know inside and out. There's some friendly stage banter and guitar tuning as the duo gets ready to play. Then comes a richly textured sound that seems impossibly massive compared with the small profile of just two musicians on stage. Complex vocal parts are sung in Hawaiian with muscular, churning guitar parts woven in.

The pair plays songs from their original album, going down the list, each track drawing progressively more cheers from the crowd. For decades, HAPA's songs have wafted through sound systems in shopping malls and restaurants, been used as the background music for news programs, been played in airplane cabins —it's imprinted in Hawai'i's consciousness.

Flanagan's unusually physical style has music flying from hands that are literally a blur, his elbow, forearm and palm joining the fray, bending notes and extracting harmonics that add nuance to the maelstrom. His guitar—the same one he'd purchased when he moved to Maui more than three decades earlier—bears the mark of this frenzy: a two-inch hole worn straight through the body of the instrument by his powerful strumming. When the iconic guitar was stolen from the trunk of Flanagan's car in 2016, it made statewide news, and the unique marking caused the thief to quickly realize whom he'd wronged. The instrument was quietly returned with no questions asked and no charges filed.

At the Blue Note reunion show, Kāneali'i's equally energetic strumming keeps pace and often sets it. His warm, broad smile and peaceful nature belie a powerhouse of steady rhythm. Disciplined, musical and precise, he lays down the guitar equivalent of a train track while Flanagan pitches coal into the smokestack. Kāneali'i's voice soars while Flanagan's more gravelly singing gives their harmonies an edge. The two look right at home in the house they once lived in—and like the guitar tone Flanagan was searching for back at Studio Kahala, their coming together, I think, was worth the wait. HH

The original duo of HAPA is taking to the road again: They have Hawai'i, Japan and Mainland shows booked through the spring of 2019.